Naked Yoga Sydney
Easter Retreat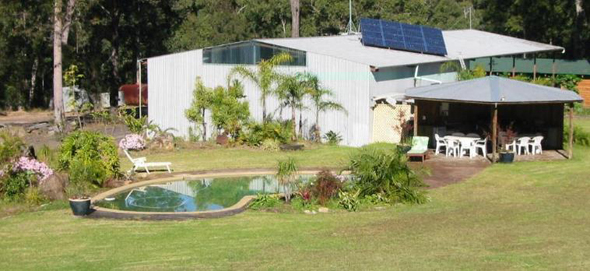 Wyee, Central Coast
Friday 2nd April, 2010 – Monday 5th April, 2010
** Treat yourself to four days of yoga and relaxing**
**$120.00 deposit secures a place**
The NYS Easter Retreat is an opportunity for you be a part of the wonderful naked yoga community in a place of natural beauty and peace.
Join us as we deepen our yoga practice and strengthen our bodies and spirits. The location of the retreat in the hinterlands of the beautiful Central Coast will help heighten your sense of oneness with nature and the earth.
Make the time to improve and refine your yoga practice, focus your mind and rediscover simple pleasures as you experience true kinship in a supportive environment of like-minded men.
Share community, strength, passion and joy in a place of natural beauty and peace. This retreat will offer you insights into the possibilities of what yoga can truly be for you.
Location: Wyee, Central Coast - about 1.5 hours north of Sydney
Dates:
Friday 2nd April, 2010 – Monday 5th April, 2010. We will begin around 11am on the Friday morning and finish around 4.00pm on the Monday. You can arrive anytime after 9am on the Friday morning.
What's Included:

Lodging, meals, yoga, activities

What's Not Included:

Transportation to and from Wyee, Massages.

Accommodation:
There are four accommodation options:
Single Bunk Bed
Double/Queen Bed (sharing bed with another)
Double/Queen Bed (in a shared room)
Double/Queen Bed (in own room)
Blankets and pillows are provided.
Linen can also be provided at an additional cost of $10.00, but providing your own is preferred.
Places in the NYS Easter Retreat are limited and will fill fast. For further information or to book a place go email us at naked_yoga_sydney@yahoo.com.au
To Reserve Your Place in the Naked Yoga Weekend Retreat
Email us at naked_yoga_sydney@yahoo.com.au. We will then send you a booking sheet and payment details. If you are new to Naked Yoga Sydney and our classes, you will also need to fill out the Naked Yoga Sydney Questionnaire.
Pricing Information:
There are four accommodation options:
Double/Queen Bed (sharing bed with another) $549.00 p.p
Single Bunk Bed $590.00 p.p
Double/Queen Bed (own bed in a shared room) $635.00 p.p
Double/Queen Bed (in own room) $680.00 p.p
Deposit:
A non-refundable and non-transferable payment of $120.00 is required at the time of booking. You can pay in instalments if this suits you. Final payment by Wednesday 31st March, 2010.
The cancellation and refund policy of Naked Yoga Sydney is non negotiable. Due to the nature of these retreats and us having to pay for all reserved rooms, we will only refund 50% of the money paid (except the non-refundable deposit) 4 weeks before the retreat starts. After 4 weeks before the retreat there is no refund.
Activities
Apart from the yoga, there will be plenty of time to enjoy this beautiful bushland experience.
There will be plenty of time for contemplation, bushwalking or just enjoying the 11 metre fresh water ionised swimming pool. We are also hoping to have a qualified massage therapist available for massages during the free time.
There are also numerous dams and walking tracks on the property to provide recreation and give you the option of getting away to a private spot in the bush to relax, swim in a dam and imagine you are far from anywhere.
The greatest indulgence of all is just to stop and do nothing! Other than to drink in the absolute peacefulness and natural beauty.
Clothing Optional:
Because of the seclusion of this property, you will be able to enjoy a weekend where clothing is optional for most parts of the property.
All yoga classes will be nudity mandatory.
The organisers do reserve the right to determine the times and locations where clothing will be required.<![if !supportLineBreakNewLine]><![endif]> This may vary from time to time during the retreat.
For the lastest updates join:
Yahoo Group: Naked Yoga Sydney
Disclaimer:
The organisers of Naked Yoga Sydney reserve the right to cancel the retreat or alter dates, venues or time without notice.
Advertisements are a service for members of Naked Yoga Sydney. NYS cannot warrant and does not represent that the information available on its website, any advertisement or any linked sites is complete, reliable, current or free from error or is suitable for any purpose. NYS excludes all other promises and warranties about this site and the information it contains. NYS cannot accept any responsibility or liability for any loss, damage, cost or expense (Loss) that might be incurred in any way as a result of the use of the NYS website or use of or reliance on the materials which appear on it or any linked sites even if caused by NYS's negligence. Without limitation, this exclusion includes any Loss caused by the transmission of a virus or similar and consequential loss such as loss of profits and loss of data.