Naked Yoga Sydney
Weekend Retreat in Blackheath
19th November, 2010 – 21st November, 2010
The 2010 Blue Mountains NYS Weekend Retreat is an opportunity for you be a part of the wonderful naked yoga community in a place of natural beauty and peace.
Join us as we deepen our yoga practice and strengthen our bodies and spirits. The location of the retreat overlooking the beautiful Kanimbla Valley will help heighten your sense of oneness with nature and the earth.
Make the time to improve and refine your yoga practice, focus your mind and rediscover simple pleasures as you experience true kinship in a supportive environment of like-minded men.
Share community, strength, passion and joy in a place of natural beauty and peace. This retreat will offer you insights into the possibilities of what yoga can truly be for you.
Location: Blackheath
Dates:
Friday 19th November, 2010 to Sunday 21st November, 2010.
We will begin around 7.30pm on the Friday evening and finish around 4.00pm on the Sunday.
What's Included:

Lodging, meals, yoga, activities

What's Not Included:

Transportation to and from Blackheath, Massages.
Cottage Accommodation
Accommodation:
All accommodations are beautiful shared two-person rooms (twin share basis) in comfortable cottages.
All bedding (sheets, blankets and pillows) is provided.
Places in the Blue Mountains NYS Weekend Retreat are limited and will fill fast. For further information or to book a place go email us at naked_yoga_sydney@yahoo.com.au
Transport:
Pricing Information:

The cost of the retreat is $525.00
There will be a 10% discount if paid in full before 1st October, 2010 (Total $472.50)
A non-refundable and non-transferable payment of $125.00 is required at the time of booking.
The cancellation and refund policy of Naked Yoga Sydney is non negotiable. Due to the nature of these retreats and us having to pay for all reserved rooms, we will only refund 50% of the money paid (except the non-refundable deposit) 4 weeks before the retreat starts. After 4 weeks before the retreat there is no refund.
To Reserve Your Place in the Naked Yoga Weekend Retreat
Email us at naked_yoga_sydney@yahoo.com.au. We will then send you a booking sheet and payment details. If you are new to Naked Yoga Sydney and our classes, you will also need to fill out the Naked Yoga Sydney Questionnaire.
Activities
Apart from the yoga, there will be plenty of time to enjoy this beautiful bushland experience.
Onsite activities include:
Soak to your heart's content in the delightful Glasshouse Spa.
Tennis on the full-size court.
Bushwalk on the property.
The greatest indulgence of all is just to stop and do nothing! Other than to drink in the absolute peacefulness and natural beauty from the cliff top lookout or private woodland deck.
Clothing Optional:
Because of the seclusion of this property, you should be able to enjoy a weekend where clothing is optional for most parts of the property.
All yoga classes will be nudity mandatory.
The organisers do reserve the right to determine the times and locations where clothing will be required.<![if !supportLineBreakNewLine]><![endif]> This may vary from time to time during the retreat.
Getting to Blackheath is very easy, and specific instructions are available once you have registered for the retreat.
We are asking all of you who have cars to connect with those who do not have vehicles. You may do so on the Naked Yoga Yahoo Group (http://groups.yahoo.com/group/Naked_Yoga_Sydney/).
You may also take the train to Blackheath. The property is about 2 kilometres from the station. It is best to get a Taxi or we can arrange to come and collect you from the train station as long as you arrive before 7.15pm (http://www.cityrail.info/timetables/).
The Studio
For the lastest updates join:
Yahoo Group: Naked Yoga Sydney
<![if !supportLineBreakNewLine]>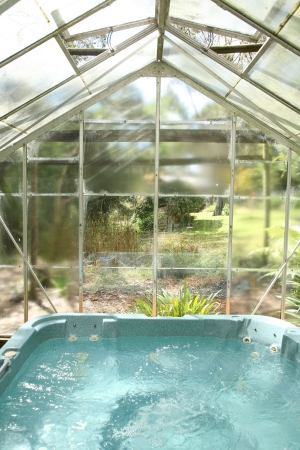 <![endif]>
<![if !supportLineBreakNewLine]> Glasshouse Spa<![endif]>
Disclaimer:
The organisers of Naked Yoga Sydney reserve the right to cancel the retreat or alter dates, venues or time without notice.
Advertisements are a service for members of Naked Yoga Sydney. NYS cannot warrant and does not represent that the information available on its website, any advertisement or any linked sites is complete, reliable, current or free from error or is suitable for any purpose. NYS excludes all other promises and warranties about this site and the information it contains. NYS cannot accept any responsibility or liability for any loss, damage, cost or expense (Loss) that might be incurred in any way as a result of the use of the NYS website or use of or reliance on the materials which appear on it or any linked sites even if caused by NYS's negligence. Without limitation, this exclusion includes any Loss caused by the transmission of a virus or similar and consequential loss such as loss of profits and loss of data.